Facebook Groups Alternative

Your own social network
Take back control of your group from the big corporations that don't have your best interest at heart. Allow your group to thrive in a safer and financially sustainable environment that you control.

Control the Content
Serve up personalized curated content that your group members will love including articles, podcasts, videos, photos & polls. You decide what is free vs premium.

Make More Revenue
Sell premium subscriptions, a la carte digital courses, merchandise, in-person or virtual event passes, and advertising sponsorships. Your built-in digital wallet enables easy one-touch purchases.

Own the Data
You'll own your members' detailed demographic, psychographic and purchasing information, and have the power to market directly to them through email, SMS and push notifications.
The Only 100% White-Labeled Mobile & Desktop Friendly Social Platform
Fully Customizable and Branded Interface

Create Public & Private Subgroups

Sell Merchandise Directly via your Digital Wallet

Serve Advertising and Keep the Revenue

Offer Premium Content via Subscriptions or A la Carte Purchases

Go Live with Interactive Live Streaming

Your Videos Generate Income with Video Shopping
How TopFan Compares to Facebook Groups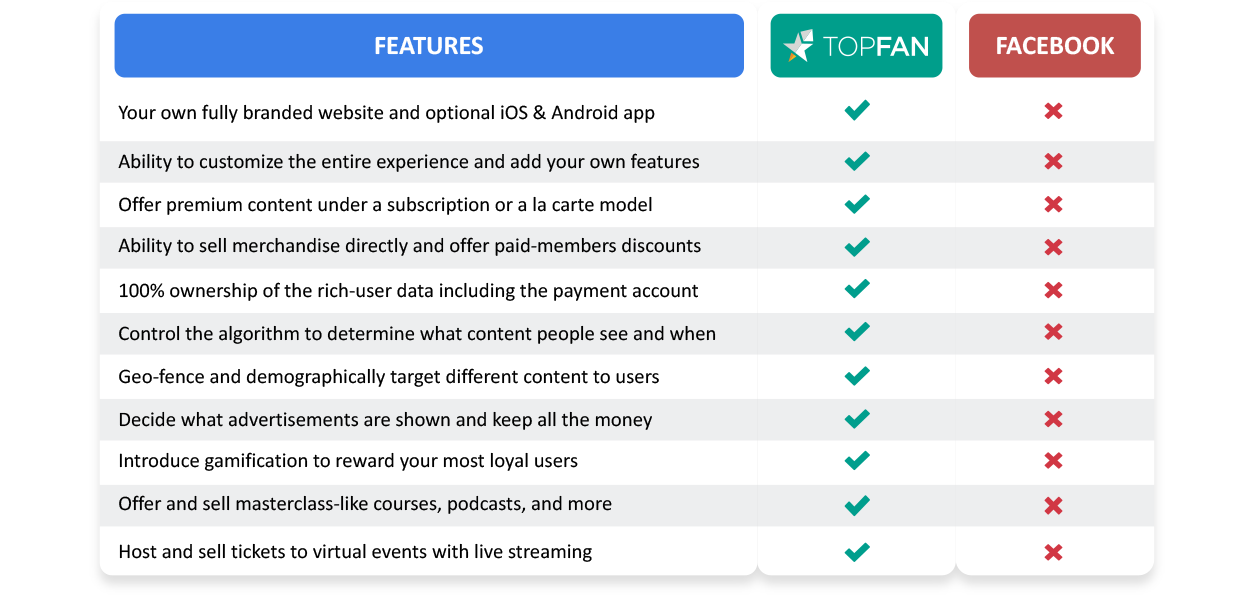 EXPLORE INTEREST TOPIC COMMUNITIES POWERED BY TOPFAN
Available for free on iPhone, iPad, Android and the Web
---